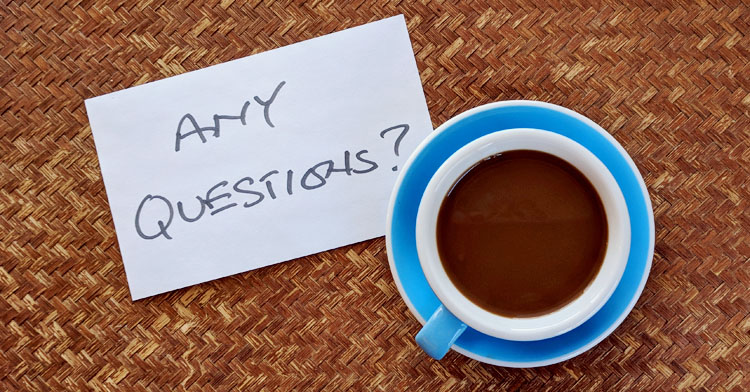 I keep a list of people who've signed up to learn more about Conversational Copywriting, but haven't enrolled in the course.
I write to them every week.
Last week I asked if they had any questions they'd like to ask me about the course.
More specifically, I told them I planned to do a live video Q&A to answer their questions. And I'm going to do that.
Anyway, when I asked if people would be interested joining the call, a ton of people said yes and went one step further by sending in a question or two.
I thought I'd get ahead by answering some of those in advance.
So here goes… the first few questions, and my answers…
Q: Do I need a sales background to be an effective copywriter?
A: Absolutely not! My own background was working on a farm and in a quarry. I'd make a terrible salesman. But give me a pen and paper, or a keyboard, and I do much better!
Q: I have trained and worked in copywriting as well as studied Ogilvy's philosophy on writing. I'm drawn to the course because you have such an impressive portfolio. But is the course really just intended for beginners?
A: Not just for beginners, although we have some enthusiastic members of our community for whom this was their first formal training as a copywriter. At the other end of the spectrum, one member came to the course with 30 years of ad agency experience behind him.
Q: Sonia Simone says, "Content without copywriting is a waste of good content." What are your thoughts surrounding this statement? Does this course address the need for different levels of persuasion throughout the funnel? B2C vs. B2B? If not, does this course only address generalities around learning to be persuasive without being salesy?
A: That's quite a mixed bag of questions! First, I agree with Sonia Simone that content has a role to play in the pre-selling process.
And yes, the course looks at how to balance the degree of persuasion required according to the stage in the buyer journey.
Yes, the conversational approach definitely applies to both B2C and B2B.
No, the course isn't just about generalities. We dig into the practical stuff too.
For example, the 6 homework assignments get you focused on applying the conversational approach across a variety of different digital media.
Q: How will this course help me in my day to day work as a communications consultant to small and new business?
A: I think it would help you bring a fresh and welcome approach to the table! Small businesses often struggle with their promotional voice. They want to be persuasive and make sales, but often feel uncomfortable about coming over as being too salesy and pushy.
The conversational approach hits the spot just right… persuasive without the hype.
Also, as a consultancy, embracing the conversational approach will give you an opportunity to differentiate yourself from your competitors. Differentiation is good!
Q: Is conversational copywriting appropriate for most/all businesses? Does writing conversationally depend on the industry?
A: I think the conversational approach is a perfect fit for any solo professional who depends on building high-trust relationships with her clients.
That said, I know someone who leads a team of salespeople at a major bank who swears by what he learned when he took the course.
So ultimately, I think conversational copywriting can be used by any kind of company.
Q: I'm interested in hearing more about how to manage client expectations re not being formal/professional enough.
A: I get asked this a lot. The first thing to understand is that being conversational isn't the same as being chatty. Being chatty can definitely come over as being unprofessional.
With the conversational approach you simply match the language used by two people in the same profession, sitting down and talking over coffee. It's less formal that how they might talk during a meeting or presentation, but it's still professional.
Q: Do I need to already be well-versed in traditional copywriting methods to be successful with Conversational Copywriting?
A: No, you don't. You don't need copywriting experience. Or any kind of professional writing experience. Nor do you need sales experience.
When I created this course, I held images of two people in mind.
One was a professional writer and marketer, who just wanted to find a more open and honest way to sell online.
The other was a solopreneur – a coach, consultant or therapist – who had no writing or marketing experience, but wanted to be able to sell his or her services in a persuasive but honest way.
Q: Do all the different types of copywriting need to start out with a story?
A: No, they don't. Opening with a story can be a great way to engage a reader. But it's certainly not the only way. Nor is it always the best way. It's just one of many tools in the digital marketer's toolbox.
Q: Would you agree that Conversational Copywriting enables the Communicator to either get onto the wavelength of the "right customers" or not as the case may be – and as a result share a stronger and more persuasive message with those to whom it is most relevant, whilst at the same time weeding out and "losing" much sooner those on whom the message would have been wasted anyway ?
A: Interesting question. You're probably right. A more traditional, marketing-speak approach would likely appeal to a broader audience, up to a point. When an audience hears a more conversational tone, they're probably more able to feel, "Hey, I love these guys," or "Whoa, this isn't for me" a lot faster. Which, I think, is a good thing.
OK, that's it for now.
I'll probably publish more Q&A posts in the future.
In the meantime, if you want to hear about when we hold the live Q&A video call, sign up for your free introductory guide and videos below… (That's how you get on the list of people who are interested in Conversational Copywriting, but haven't yet enrolled in the course.)