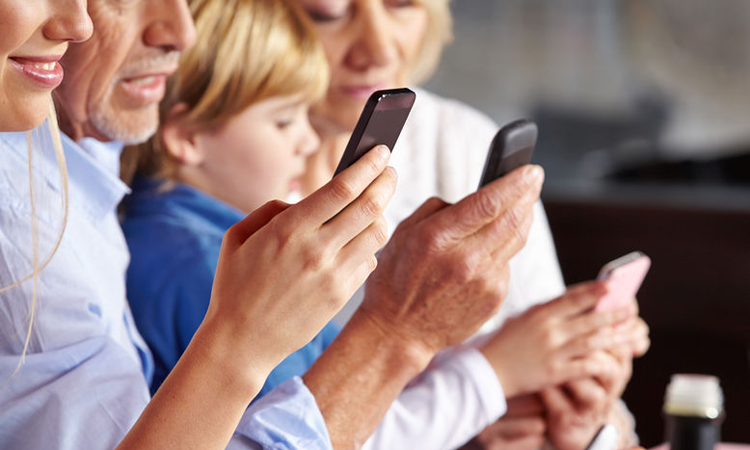 "Oh my goodness, the web changed everything!"
"Oh wow, social media changed everything!"
"Yikes, text messaging changed everything!"
All true.
But it's not just new services that change everything. It's not just about the software.
It's also about the devices we use.
With the arrival of the web in the mid-1990's, people had to run out and buy a desktop computer or a laptop. A computer in every home!
And today… well, today we have a smartphone in every hand, everywhere we go.
This particular device really has changed everything, including the way we write.
Smartphones blur the lines between everything.
Watch a 5-year old kid sending a photo to her 95-year old great grandfather. Both are holding phones. They're divided by 90 years, but their differences are blurred by using this device.
The kid's father is in the kitchen on his own phone. Is that a home thing he's engaged with, or a work thing? Impossible to tell.
Same with his wife who's in a meeting at work… looking at her phone. Play or work?
And their son is on a train, looking at his phone. Is he playing? Reading? Watching a video? Learning a new language? Going through his work to-do list? Who knows.
Smartphones blur the divisions between age groups, places, work and play.
They're being used by everyone, everywhere, for a fast-growing list of reasons.
Smartphones also change the way we communicate…
Back before the days of the web, if you wanted to lift someone's spirits, you could pop over for a cup of tea or coffee, or write them a nice long letter.
With the arrival of the Internet, email and the web… you had another choice. Fire off a quick email. Maybe with a link to an uplifting web page somewhere.
And now… with my smartphone and a texting app, I can type a few words… a VERY few words… throw in some happy face emojis and include an animated GIF of a dancing kitten.
Lots of emotions and smiling… not so many words.
And the reader isn't the only one who appreciates brevity, because I can't be the only person in the world who finds it ridiculously hard to type with two thumbs.
With everyone engaged through their smartphones, it's about time companies got on the same page.
Here we are… BILLIONS of us… using our phones to connect, share and communicate in this new shorthand of words, emojis, images and short video clips.
We don't write long paragraphs or use long words. No colons or semi-colons.
And we keep things brief.
So when a company reaches out to us with an email or web page that just goes on, and on, and on… Well, we're just going to disengage.
The language of smartphones is social and conversational.
Hey, it's a phone. It's conversational by definition.
I'm not suggesting that companies start sharing kitten GIFs, but they do need to change their messaging style and their use of language.
Companies large and small need to write in a way that uses everyday, conversational language.
If they don't… they won't get much engagement on smartphones.
And if that happens… well… bye-bye.
NOTE: If you don't already know about it, I teach a course on Conversational copywriting.