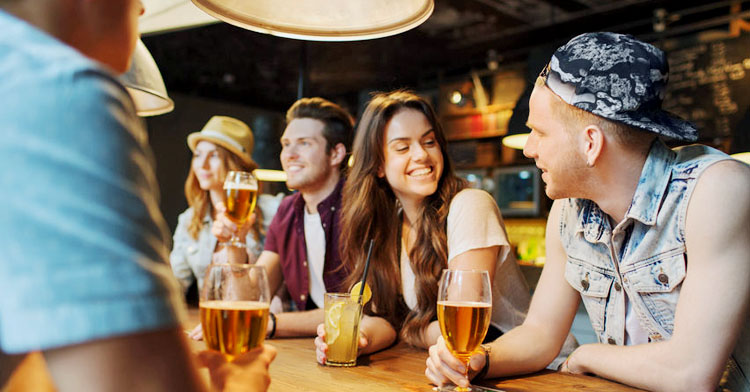 I get asked this question from time to time.
Can conversational copywriting go head-to-heard with traditional, direct-response copywriting and win?
Well…
If you're talking about making an immediate, direct sale from the page of a website…
And if you're executing a side-by-side, A/B split test, and comparing revenues before the end of the day…
Then no, the conversational approach is unlikely to win.
But you're probably asking the wrong question.
To illustrate what I mean, let me fall back on the tried and tested dating analogy.
Two guys go into a bar…
Frank and Dave.
Frank has his sights on scoring a one-night stand. Tonight.
Dave is in no rush. He's looking for a long-term relationship. Sure, he'll strike up a conversation with a girl who catches his eye, or who catches his. But he's not focused on the short term. He wants to attract someone who is interested in building a long-term relationship.
Frank has a collection of killer pick-up lines.
Dave just wants to be himself, enjoy a good conversation, and get to know someone.
Frank is about "closing the sale".
Dave is about engagement, trust and his long-term goals.
That's the difference between hard-selling direct response copy and conversational copy.
I know… there are plenty of grey areas in-between.
But you get the point.
Conversation copywriting comes out on top when you'll be working one-on-one with your clients.
If you're selling steak knives on late-night TV, knock yourself out. Use your best pick-up lines.
If you never get to meet your customers and don't much care what they feel about your product or service, so long as they paid for it, keep hammering away at your next group of prospects.
But… if you're in the kind of business where you're building long-term relationships with your clients, everything changes.
You can't afford to be seen as a pick-up artist.
You don't want prospective clients to see you as anything other than open, honest and transparent.
This applies to you if you're a freelancer, coach, therapist, consultant or anyone else who builds trust-based, one-on-relationships with their clients.
The words you use on your website and in your mails have to ring true.
Your sales copy has to reflect your own character and voice.
It has to be the most persuasive version of YOU.
If you're not sure what that sounds like, just think back to the last time you spoke to your kids about the importance of doing their homework, or helping with chores.
You were being persuasive… selling your point of view… but without sounding like a marketer or a salesperson.
You were selling, but in an open and transparent way.
This is what conversational copywriting is all about.
It's for those of us who are building a business or practice that depends on building relationships based on transparency and trust.
If that sounds like you… if you're looking for long-term relationships and not one-night stands… your next step may be to find out more about my course on Conversational Copywriting.