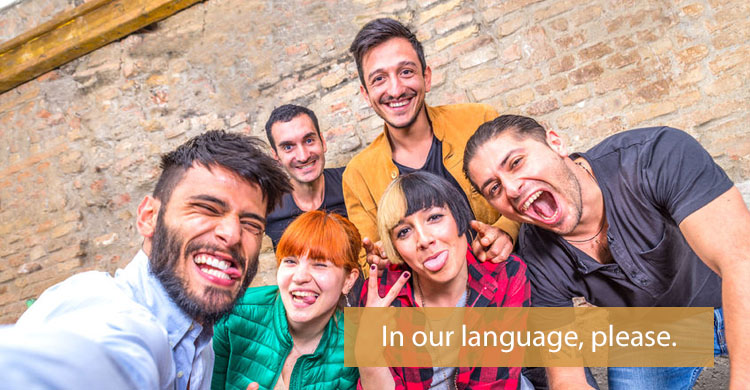 You can't hold a good conversation without speaking the same language.
And I'm not talking about trying to have a conversation with someone who speaks a foreign language.
I'm talking about striking up a conversation with someone – or a group of people – without knowing the vocabulary of that particular audience.
Imagine you're a doctor attending a conference, but walk into the wrong meeting room and find yourself sitting down with a group of aeronautical engineers. Well, you might as well be listening to people speaking a foreign language.
Or you visit your accountant during tax season, and have to keep asking him to stop and explain himself because he's using terms you don't understand.
Maybe you simply walk into a bar on the other side of town, and feel some subtle differences in how people talk and what people like to talk about.
The point being, as a marketer or copywriter, if your language doesn't match or mirror that of your audience, you'll never achieve a close connection and be able to hold a meaningful conversation.
This means you need to put in the work to make sure you're writing in the language of your customers.
So… how can you learn the language and vocabulary of your audience?
Online there are a ton of ways. Here are 4 of them…
1. Stimulate discussions on social media.
Interesting, stimulating and even provocative posts to Facebook and other social media platforms attract comments. Look for the most passionate comments in each thread, and study the language being used.
Beyond finding out which words and phrases your audience likes to use, social media gives you amazing insights into how people feel about your products, services or messaging.
And don't just read through the comments and move on.
Copy and paste them into a file.
Become a collector and curator of the language and passions of your audience.
2. Ask open-ended questions with surveys.
Create quick polls on Facebook or use services like SurveyMonkey to create more detailed surveys.
For the most part, I favor surveys over polls because you get to ask open-ended questions.
You can still have a simple survey element with checkboxes or radio buttons. But under that, always include an open-ended question with space for people to write their answers.
Again, look for the vocabulary being used… and find out what people care most about.
Then copy and paste into your growing collection.
3. Invite your audience to ask YOU questions.
On one of my own websites, about coffee, I invite readers to submit coffee-related questions. I hesitated before implementing this, thinking I might be committing myself to a ton of extra work.
Well, it has created some extra work. But it has absolutely been worth it. In hindsight, I now realize how poorly I understood my readers before inviting them to ask questions.
And I was way off when it came to the language of my readers, and my understanding of the coffee topics they truly cared about.
Inviting my readers to submit questions opened up a conversation, and has made the site a whole lot more helpful, and profitable.
4. Look for third-party sources of reviews or questions.
If you don't have a big enough audience of your own, through your own digital properties, take the third-party route.
Find relevant reviews on sites like Amazon, Trip Advisor, Yelp or other places where your audience might spend time. Read through their reviews and take note of the language being used.
Or go to a site like Quora, do a search for relevant topics, and study both the questions and the answers.
You can't be conversational without knowing the local language.
Every audience, for every different product and service, has its own language and its own priorities.
If you don't know that language, they'll see you as a stranger… like that out-of-towner who doesn't quite fit on.
But if you do take the trouble to learn the language of your audience, they'll be far more likely to engage with you, trust you and buy from you.
Language matters!
NOTE: If you'd like to add the craft of conversational copywriting to your online writer's toolbox, find out about the Conversational Copywriting course here…