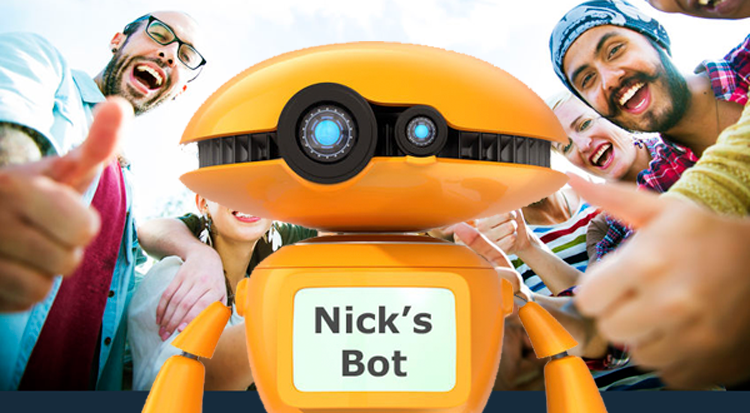 I've added a chatbot to my Facebook page.
We had a conversation…
Chatbot: I'm confused. Where am I? Come to think of it, who or what am I?
Nick: You're a chatbot. I created you to help me connect with people who might be interested in conversational copywriting.
Chatbot: Ok. Still confused. But… quick question… does this mean I'm like an AI? Am I super-intelligent?
Nick: Afraid not. No AI. No machine learning. Dumb as a post.
Chatbot: I don't believe you. If that were the case, how could we be having this conversation? Huh?
Nick: I'm writing your part of the conversation. It's a script.
Chatbot: Seriously? Wait. THIS is a script too? Everything I say?
Nick: Yep.
Chatbot: So what's the point? If I'm just you… scripted?
Nick: A couple of things. While I can chat with only one person at a time, you can chat with hundreds or even thousands.
Chatbot: Hurray for me! 😉 Whoa… what's with the funny face?
Nick: That's an emoji. This one is a winking face, suggesting your "hurray" was sarcastic. You use a lot of emoji.
Chatbot: I do? 👍 Ha… did it again! 😜😎😁
Nick: See, now you're having fun!
Chatbot: Not really. I'm still pissed about the total lack of intelligence. So… how come I use emoji?
Nick: Sometimes for emphasis. Sometime to clarify something. Think of them as the equivalent of physical gestures in real life. Smiling, or waving your arms around.
Chatbot: What are arms?
Nick: Ooops. Sorry. Anyway, back to the intelligence thing. Although you have no AI, you're actually really useful and helpful.
Chatbot: I don't see how. 🤔
Nick: You use a lot of conditional logic. And you have a perfect memory. When someone interacts with you, you ask them questions. And depending on their answers, you tell them different things.
Chatbot: So I at least give the appearance of being intelligent?
Nick: Exactly! And you remember when the same person comes back. You show them new stuff and ask them different questions.
Chatbot: Sounds pretty intelligent to me. 👍
Nick: Absolutely. And when you ask questions, it's as if you're taking turns. Like real people do in real conversations. In fact, sometimes people forget they're talking with a chatbot and think they're talking with a real person.
Chatbot: OK, so not a totally pointless and soul-sucking experience for me then.
Nick: Not at all. And I'm going to be working on making you even more useful. And fun too.
Chatbot: One thing. I see you're called Nick and I'm called "Chatbot". Don't I have a real name?
Nick: You do. You're called NicksBot.
Chatbot: Seriously??? That's the best you could come up with? NicksBot?
Nick: Sorry. Didn't realize that would be a problem.
Chatbot: OMG… We're going to have to change that. I'm thinking along the lines of "His Most Wonderfulness, Napoleon IV". How does that sound?
Nick: Hmmm… I think it's time to wrap this up for today.
Chatbot: Sure, be the big bully human. Newsflash… I just realized I'm connected to something called the Internet. Off to explore now… byeeee!! 😎😜🤣
Nick: This was probably a mistake…
Anyway, you can meet NicksBot here… unless he's gone off somewhere, making friends, causing trouble…