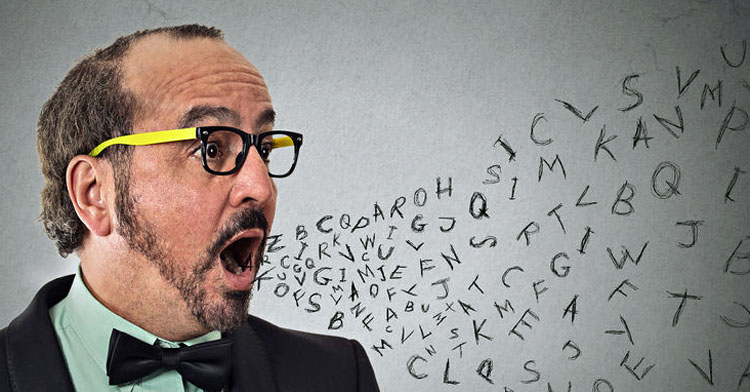 My first language is English.
But I live in Montreal, where the first language is French.
As a result, I'm used to translating French into English.
I'm not very good at it. But translating into English is something I do every day.
Now for the weirdness.
Sometimes, when I'm reading marketing copy or even business writing – in English – I have a moment of recognition in my mind.
I think, "Hang on, this feels like translating from a foreign language. I'm having to translate marketing language or business language into everyday English."
Interesting notion… having to translate English into everyday English.
Not sure what I mean?
I'm a bit of a collector when it comes to finding marketing-speak that needs translating.
I'm aided and abetted by students of the Conversational Copywriting course. We share our latest finds on our Facebook page.
Here's an example of the kind of stuff we come across.
Strangely, this is from the website of a digital advertising agency.
"…we work in agile, cross-functional teams, with our clients as partners and users as our focus to create memorable online experiences that instigate action."
You have to sit back and translate it into regular language before you can truly understand the meaning.
I think what they're trying to say is…
"We work together with our clients to create marketing that works".
Why didn't they say something like that? Why the fancy language that needs translating?
Here's another one…
"To create a new era, new media solution embracing data, content and technology in an always on environment for global, multi-national, regional and local clients and millennial-driven digital brands."
Wow… there's a tough translation job.
I'm not even going to try. But if you want to give it a shot, share your translation as a comment below.
So… why write in a foreign language, with English words?
Honestly, I'm not even sure how people learned to write in such a weird and incomprehensible way. Were they taught this at school? At work?
I know that lawyers and politicians might sometimes choose to deliberately obscure meaning. They do this when they don't want to be held accountable for something they say or write.
I get that. When it's deliberate. For a purpose.
But when you're a business owner or a marketer, where is the upside to writing in a way that makes it almost impossible to figure out what you mean?
Where's the benefit to leaving your readers scratching their heads in confusion?
If you wouldn't say it…
This is a pretty simple rule of thumb for you.
If you wouldn't say it, don't write it.
If it makes you sound like an idiot when you read it out loud, don't write it.
If it sounds creepy or sleazy when you say it out loud, don't write it.
And…
If you don't even understand what you're saying… if it feels like your own words need translating into everyday English… just stop.
Step back, grab your keyboard, and write another draft that's easy to understand.
Write a version that is written in simple, everyday, conversational language.
No translation required.
NOTE: If you want your readers to understand what you're saying instantly – without having to "translate" your sales copy first – find out more about the craft of Conversational Copywriting.