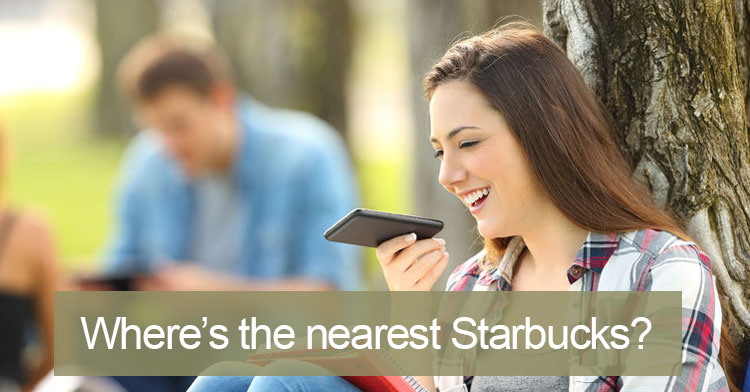 I got an email recently from someone who told me that conversational copywriting was all very nice, but wouldn't work for search engine optimization.
He told me that the unique structure of organic search terms would never be a good fit for conversational writing.
Huh…
Well… he's totally, absolutely wrong.
He clearly hasn't heard of or given much thought to the meteoric growth of voice search.
Voice search is when you speak your search query instead of typing it.
According to Google, 55 percent of teens and 40 percent of adults use voice search every day. And voice search is growing at a faster rate than typed search.
A teeny bit of mental arithmetic will tell the future of search is all about voice.
People are searching online simply by talking to Apple's Siri, Google's Assistant or Microsoft's Cortana with their phones. Or across the room to one of Amazon's Alexa-enabled devices.
And when people use voice search they structure their queries in a way that's quite different to a typed search.
Basically, when people type a query into a search box in their browser they abbreviate their queries into short phrases.
For example, if I need some new wax for my cross-country skis, I might type:
nearest store ski wax
But if I'm talking to Siri I'd probably say something less compressed, like:
Where's the closest store to buy ski wax?
When I go from typed search to voice search, I'm more likely to just ask the question as if I were asking a real person.
In other words, voice searchers use normal, everyday, conversational language, instead of those odd, truncated queries used in typed search.
As a result, with skills as a conversational copywriter, you're in an ideal position to step in and help your clients with their SEO. You can write copy and content that is perfectly optimized to match the conversational queries people use in voice search.
So… back to my email buddy who was more than a little condescending about conversational copywriting.
Let's say he'd made that claim 5 years ago. If back then he had said that conversational copywriting wasn't a good match for typed search queries, he might have had a point. Not a big one. Just a small point.
But today, he's utterly wrong.
With the rise of voice search, conversational copywriting is absolutely your best bet when it comes to helping your clients with search engine optimization.
Conversational Copywriting is the future of selling online. You can build your expertise now, or try catching up later. Find out about the course here…