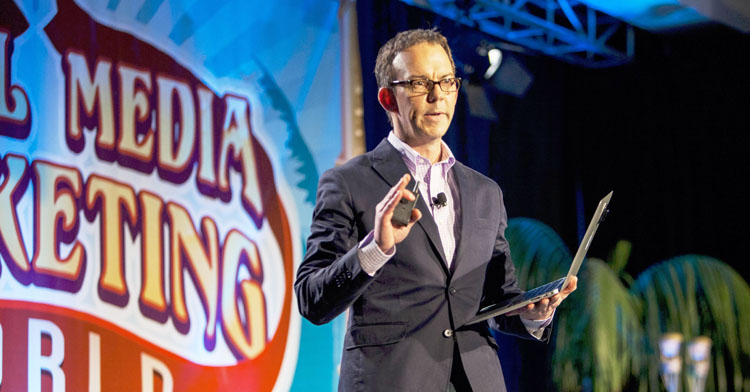 In this post I get to interview Tim Washer… speaker, creative director and comedy writer whose credits include Late Show With David Letterman, and Saturday Night Live.
I met Tim at a conference in Austin, Texas. We were both speakers, but he was way, way funnier.
He gave this great talk that held everyone's total attention. Everyone in the audience was totally spellbound.
I remember how Tim clearly cared about the people in the room.
And how he used humor to connect with people, engage with the whole audience and make us all feel we were his friends.
Imagine being able to harness that kind of attention as a marketer.
No wonder Tim is on my must-interview list.
Let's get started…
Nick: Tim, thanks for taking the time to do this. I really appreciate it.
You've been mixing it up for a while, as far as I can tell. While you were Creative Director of Service Provider Marketing at Cisco, you were also writing for TV comedy shows.
It's like you combined the two parts of your life into something new – corporate comedy. How did that happen?
Tim: I convinced my wife-at-the-time to let me quit the corporate world to try comedy full time for one year. Which led to a second year. Which led to a lot of marriage counseling. I was a freelance writer for SNL and a sketch actor on Conan O'Brien. I guess the best way to describe my career is to say it was very similar to being unemployed.
When my daughter was born, I took the next logical step on that path and joined IBM. While I initially felt I was giving up my dream of comedy, on my second day on the job as a speechwriter, an executive asked me to write a joke for his upcoming speech.
Four months later, I was tasked with developing a communications plan, and a large portion of the effort was to focus on helping the salesforce change counterproductive behavior, such as not understanding the customer's business and giving these long presentations on IBM.
To me, it seemed like the obvious choice was to create a comedy video. The other executives didn't see it that way. But by simply exaggerating the negative behavior to an absurd degree, the sales people got the point. And since they were laughing, they were open to listening and adopting the message.
I spent the next six years writing and producing YouTube comedy videos for IBM's IoT "smarter planet" campaign. And then brought the absurdity to Cisco. The comedy videos really stood out from all the other talking-head stuff, and helped us get a ton of press coverage. The sales team used the videos as an icebreaker in their customer meetings.
Self deprecation goes a long way in establishing rapport and building trust.
Nick: I mentioned in the intro that one of the aspects of you talk in Austin that really grabbed my attention was the way in which you used humor to connect with us in the audience.
I never got the sense you were going for the laugh. It felt more like you were using humor as a way to connect with us, to engage with us. You were being funny, but you weren't being a comedian.
Is that right?
Tim: Usually when someone tells me that I wasn't being a comedian, it's followed by a demand for a refund of my speaker fee. In this case, I'll take it as a compliment.
Whenever I can write a joke into the content, I do, as long as it serves the message or at least doesn't distract from it. Laughter is so important to all of us, especially these days. That's what brings me joy, and hopefully, brings others joy.
I think you might be referring to from our Austin event are impromptu quips. Many times an absurd comment pops into my head while I'm finishing a sentence, and most of the time I share it, and hope it gets a laugh.
Nick: I think a lot of marketers and copywriter know that humor can be used to connect with their customers and prospects. But they've also been warned off. They've heard that using humor is just too hard.
If I wanted to start using more humor, how could I get started?
Tim: To be creative in a new way, especially with humor, it's critical that you feel totally safe to experiment and play around with ideas.
I'd begin by writing for your own personal enjoyment, rather than being encumbered by the threat of the Brand Police busting down your door at 3AM for a "brand voice violation."
Writing humor can have a dramatic positive impact on you, but it's not worth living the rest of your life on the lamb.
To avoid messing up, it's important to know what can go wrong. The set-up of a joke needs to have just the right amount of context to move your audience's path of thought in the direction you want. The punchline is a violent interruption of that path.
If you don't provide enough context, that path will be off-course. If you provide too much context, you'll telegraph the punchline. The punchline must be crystal clear – you need the exact word. A synonym won't get a laugh. It needs to paint a precise picture in the audience's mind, crashing into the forward motion of the path of thought.
This demolition derby of linguistics needs to be constructed with intense economy. For most late-night TV shows, the monologue headline jokes have fewer than 25 words.
Nick: That last part is great advice for me personally. I always tend to write too much and explain too much. Giving me a 25-word limit is a great start!
As you know, my own obsession is with Conversational Copywriting. One of the things I talk about a lot is the power of conversation to build more transparent and honest connections between companies and their customers. To me, conversational copywriting is less about selling AT an audience and more about engaging WITH them.
In that sense it feels like we're both after the same thing… replacing old-school sales promotion with something that is more open and empathetic.
If that's the case, how does that work? Do you have any thoughts on how humor and conversation both seem to be keys to the same door?
Tim: Totally agree. Sales promotion content doesn't have much of a life today.
We can be much better stewards of our budgets, brands and customers' attention by creating an entertaining spot based around their pain point that our product can solve.
Much of comedy comes from pain, and if we focus on the customers' experience and any pain they're experiencing such as loss of productivity or an increase in churn, we're demonstrating empathy; that we've heard and understand their business problems.
Audiences are so grateful when we invest time, creative energy and a little extra budget to making their day a little brighter. I think their gratitude pays off in brand loyalty.
Nick: I think the same. That sense of engagement and empathy definitely helps. And making people's day a little brighter. I think both conversation and comedy can help us get there.
Thank you, Tim! I really appreciate you taking the time to share all this with us.
Tim Washer studied improv under Amy Poehler, comedy writing with The Colbert Report executive producer Tom Purcell, and has appeared on the Onion Sports Network, HBO's Last Week Tonight with John Oliver, and a T-Mobile commercial with Catherine Zeta-Jones. Tim has written and performed custom PowerPoint Comedy at corporate events for Deloitte, CDC, Google and The White House. His award-winning corporate work has been featured in The New York Times, WSJ, Ad Age, ADWEEK, and Fast Company. He's presented at SXSW, Harvard Business School and Forrester's CMO Council. Tim holds an MBA from McCombs at UT Austin, where he majored in PowerPoint.
Conversational Copywriting is the future of selling online. Build your expertise now, or catch up later. Find out about the course here…