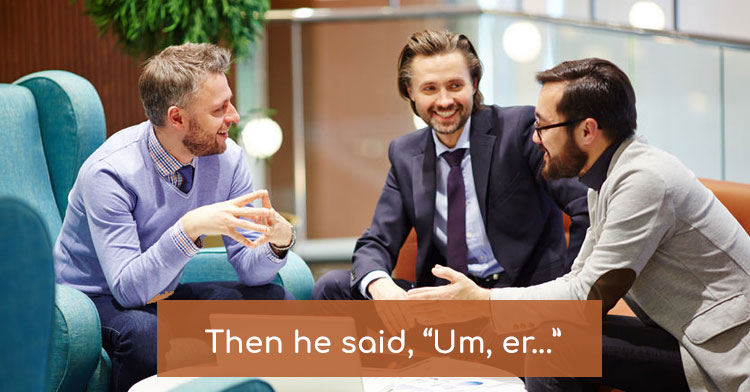 If you ever do any public speaking, or give presentations for work, you probably obsess a little over getting rid of all those Ums, Ers and other "fillers" that creep into your language.
Speaking coaches will train you to avoid them when speaking live. And audio engineers will edit them out when producing recorded speeches, presentations or training products.
But… it turns out that Ums and Ers actually have an important function.
According to Nick Enfield, a linguist at the University of Sydney, "pause fillers" like Um and Er are a signal that you're not quite finished with what you're saying.
For some context, think about conversations you have with friends and colleagues. When a conversation is going well, with both parties listening as well as speaking, the gap between one person finishing her thought and the other person jumping in is extremely short…measured in just milliseconds.
It seems human are really, really good at reading the signals that tell us the other person is done, so we can jump in quickly with our own thoughts or response.
This is what keeps conversations moving along at a good clip. There is almost not gap between one person finishing and the other person responding.
But sometimes, as we are gathering our thoughts, we want to let the other person know that although we are pausing, we're not actually done yet.
That's when we use Um and Er. It's our way of saying to the other person, "Hang on a sec, I'm not quite finished."
We can do something similar when writing online copy and content…
When you're writing a page of sales copy, you're not part of a conversation. The reader isn't participating.
But the reader can still look for clues that you're done with communicating a particular point… and they can use that natural break as an excuse to stop reading altogether and leave the page.
This is why, for decades, copywriters have used ways to bridge the natural pauses that occur between finishing one thought or paragraph, and moving on to the next.
Not sure what I mean?
Well, I imagine you're familiar with this line…
"But wait, there's more!"
Yep… that's a pause filler… a device to hold your attention while the writer transitions from one thought to the next.
Other written pause fillers include…
That's why…
In addition…
What's more…
Better still…
All these phrases act as a bridge, often between one paragraph and the next.
Copywriters can learn and apply a great deal from the world of conversation.
Pause fillers, which have been used in spoken conversations for centuries, are a powerful way to hold an audience's attention, even as the speaker transitions from one thought to the next.
When we are writing, we should be using equivalent linguistic devices.
Our readers are keenly aware any kind of pause or hesitation in our writing. They then use that as an excuse to stop reading.
By borrowing from the world of conversation, and using pause fillers of our own, we can hold our readers' attention for longer… hopefully to the very last word on the page.
Conversational Copywriting is the future of selling online. You can build your expertise now, or try catching up later. Find out about the course here…